V-601
Oil soluble Azo initiators


Plastics manufacturing
Photocurable
V-601 is a nitrile-free oil-soluble azo polymerization initiator which has similar level of polymerization activity as AIBN. A safer developed as alternative to AIBN, V-601 decomposition results in much less toxic byproducts. As a nitrile-free azo initiator, V-601 displays excellent solubility characteristics in organic solvents. Since the volatility of the decomposition product is higher than that of others, such a product can be removed in the process of polymer manufacturing. Being of non-nitrile type, the polymerized polymers are highly transparent, therefore, semiconductors and LCDs applications are expected.
Non-nitrile azo initiator as an alternative to AIBN
Freely soluble in various organic solvents, available for high solid coating.
With equivalent polymerization activity of AIBN. Efficiency of polymerization rises in alcohol solvents
10 Hour half-life decomposition temperature: 66℃

| | |
| --- | --- |
| Chemical name | Dimethyl 2,2'-azobis(2-methylpropionate) |
| CAS RN® | 2589-57-3 |
| Molecular weight | 230.26 |
Physical characteristics
Color
Appearance
slightly yellow or light yellow
crystals or oily liquid
Melting point/freezing point
22-28℃
10hour half-life decomposition temperature
66℃(in toluene)
Activation energy
131.2 kJ/mol K
Frequency factor (ln A)
35.67
Solubilities

water : insoluble.
benzene, ethanol, N,N-dimethylformamide, dioxane, DMSO : freely soluble.
methanol, toluene, chloroform, hexane : soluble
acid:soluble

SADT
35℃
*SADT: Self-accelerating decomposition temperature
Packaging & Storage conditions
| | |
| --- | --- |
| Packaging | 10kg / 500g |
| Storage conditions | keep under 10℃ |
Related laws and regulations
| | |
| --- | --- |
| TSCA | Listed under 5e Consent Order |
| EINECS | Listed |
| REACH | 01-2120807902-57-0000 |
Volatility of Decomposition Products
The decomposition product of V-601 is characterized by a higher volatility than that of AIBN. Also, the decomposition product of V-601 is azeotropic with water, therefore, thus can be easily removed from the post-reaction system.
Boiling point of decomposition product of V-601: 85-90 ℃ (5 mmHg)
Azeotropic point of decomposition product of V-601 with water: 90 ℃
On the other hand, the decomposition product of V-40 is hardly volatile, therefore, applications such as paint are expected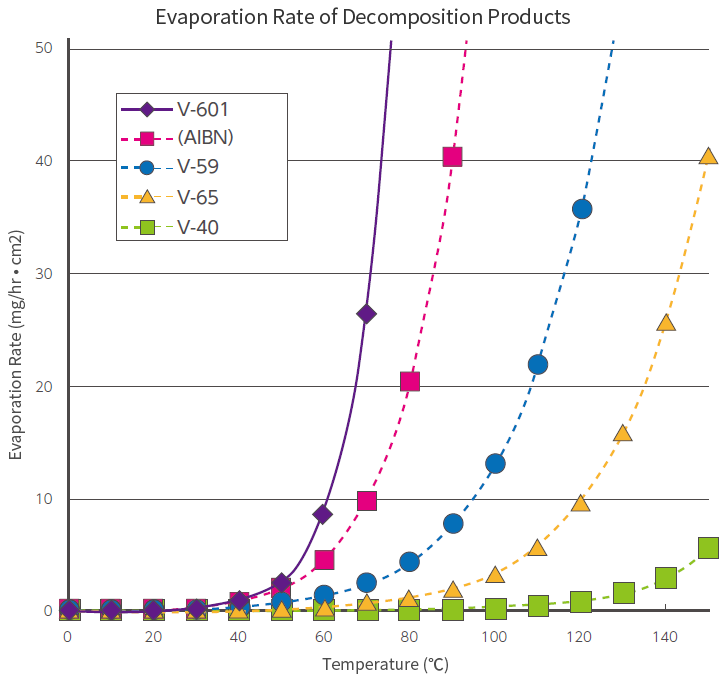 Contact us for more details.
We are waiting for questions and requests on products.
Inquiry form