Evemoist
(Long-lasting humectant)
Pharmaceutical & Cosmetic products
Long-lasting humectants comparable to hyaluronic acid. Suitable for use in a wide range of nonionic formulations. Excellent emulsifying ability.
Long-lasting humectant
Flexibility and smoothness
Easy to formulate (nonionic)
| | |
| --- | --- |
| Product name (abbreviation) | Evemoist |
| INCI (International Cosmetic Ingredient name) | Poly(Methoxy PEG-9 Methacrylate) |
Moisture retention evaluation
Evemoist showed as Long-lasting moisture retention as that of HA.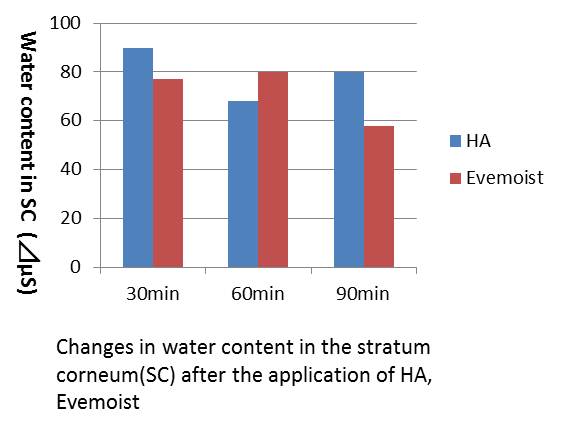 j.Soc.Cosmet.Chem.Jpn. Vol.48,No.3 2014
Stickiness evaluation
The peeling force and stickiness of CVP, HA and XG increased with time. On the other hand, the peeling force of Evemoist was smaller than that of other cosmetic raw materials, and no change was observed with time.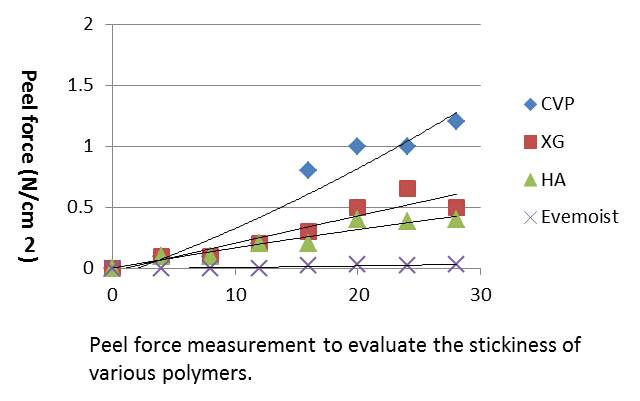 j.Soc.Cosmet.Chem.Jpn. Vol.48,No.3 2014
Observation of the state of film formation by microscope
CVP, HA, and XG were white and uneven on the surface, which was not observed in Evemoist.
It was found that Evemoist forms a highly flexible film without causing cracks even when applied to an uneven surface such as skin and left to dry.

j.Soc.Cosmet.Chem.Jpn. Vol.48,No.3 2014
Physical characteristics
CAS RN®
87105-87-1
Appearance
Colorless viscous liquid (30% BG solution, 50% water)
Solubilities
water , acetone , tetrahydrofuran : soluble
hexane : insoluble
Storage condition
Store away from sunlight in the refrigerator (lower than 10 °C = 50°F)
Related laws and regulations
| | |
| --- | --- |
| TSCA | Not Listed |
| EINECS | Not Listed |
| REACH | Not Listed |
| Acute toxicity(LD50) | LD50>2,000mg/kg |
| Safety data | Data available |
Contact us for more details.
We are waiting for questions and requests on products.
Inquiry form