Customer case studies
Example 3:Customer C (pharmaceutical manufacturer)
Product:API
Ensure quality by improving the crystallization method based on our experience.
Customer C (pharmaceutical manufacturer) formerly outsourced production of an API, there was no demand for the API due to a change in product lineup, so it was not manufactured for a long time. Recently, Customer C started to use the API for another product and they were considering outsourcing production again.
We accepted the information from company C and examined the API and its crystallization process. As a result, we confirmed the following problems.
・Each crystal has different solubility, bioavailability and stability profile depending on its shape, resulting in differing medicinal effects of the pharmaceutical product. To protect the desired crystal (metastable), precipitation and transition (to stable crystal) must be prevented.
* Stable crystal has high melting point and low solubility under the same conditions (solvent, temperature etc.). Meanwhile, metastable crystal has lower melting point and higher solubility than that of stable crystal. In general, metastable form tends to transit to stable form and is unstable.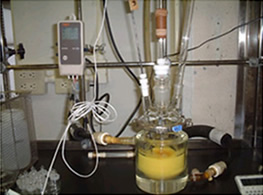 An example of equipment used for experiment in this case
We have abundant experience in API manufacturing. We specialize in researching and controlling crystal polymorphism.
After a careful examination of operating conditions such as solvent composition, cooling temperature, stirring time and so on, we decided on a process that was maximized to produce metastable crystal. However, in practice it was shown that stable crystal was found to be 1 % to 3 % of the total.

Accordingly, we performed repeated experiments and determined that process as shown below was best suited to obtain the metastable crystal.
Examination process
We found that stable crystal formed because a small amount of stable crystal was contained in seed crystal.
We looked for the optimum seed crystal quality and timing of addition to prevent the formation of stable crystals.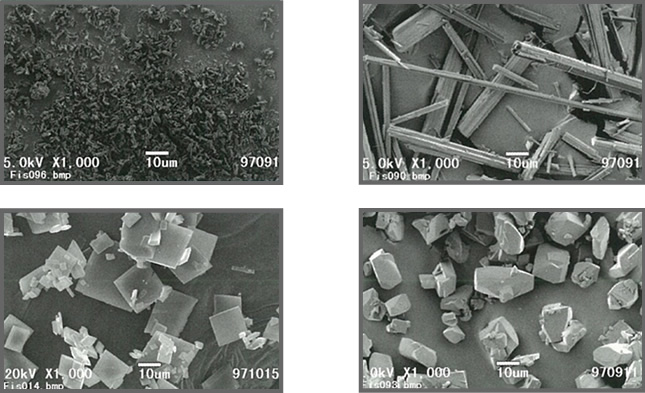 Example: Succeed in creating various crystal forms based on our knowledge for controlling crystal polymorphism
Result
As a result, we succeeded in obtaining a metastable crystal through our process. We were able to manufacture the product with target quality , and Company C was able to advance their business plan smoothly.
Our custom manufacturing /synthesis makes a difference
We have experienced in researching on productization of various raw materials for high-performance materials such as APIs/intermediates, ink dyes, electronic materials, photographs, printing plates and films with a wide range of businesses of FUJIFILM group. The databased abundant performances of crystallization examination obtained through the experiments enable us to search the optimum condition effectively.  
Performances for business issues of company C
Succeeded in obtaining the object by controlling crystal polymorphism.
Manufacture as planned by the customer and support the business of customers.
Please contact us about cost/case/technology/quality control
Inquiry form